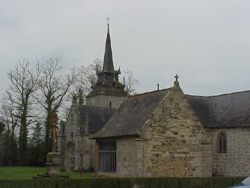 The chapel Saint-Noyale, the oratory and the calvary
As far back as the 5th century the village named "Noala" appears. This name would come from a gallic word, meaning the "Newly cleared Land". This parish was the largest of fifty parishes of the Vannes diocese as earlier as the 11th century and was included in the lord "de Rohan" domain. The village, you discobver to-day, dates of the 15th century. Before that, it was standing very near the Sainte-Noyale chapel few kilometers further. But it seems that the small valley dampness would have pushed away the inhabitants to settle on a hill.
The parish wealth would come of the three fairs created by the landlord de Rohan family. The well-named fair "Noyale" started on July the 6th, Saint day of the Saint herself, and could last three weeks. It was a very big market for clothes, threads and skins.